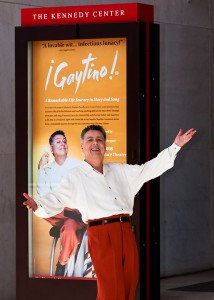 HOLLYWOOD (Herald de Paris) – The eclectic producer/director Dan Guerrero has been twice honored by the distinguished Imagen Foundation for his positive portrayal of the Latino culture in his work. Hispanic Magazine recognized him as, "One of the 25 most powerful Latinos in Hollywood."
Dan began his entertainment career in New York. He was a successful theatrical agent with clients in the original casts of countless Broadway musicals in the years from A Chorus Line to Cats. He returned home to Los Angeles for an equally successful time as a casting director for stage and television before turning his talents to producing and directing.
Guerrero has long been acclaimed as a highly creative independent producer of diverse programming for network and cable television in both English and Spanish. More recently, he has specialized in producing and directing non-broadcast international arts and culture events, at such prestigious venues as the John F. Kennedy Center for the Performing Arts in Washington, D.C., the Dorothy Chandler Pavilion in Los Angeles, the National Hispanic Cultural Center in Albuquerque, and the Cite de la Musique in Paris, France.
Dan is internationally acclaimed for his ground braking award winning one-man Broadway show entitled Gaytino. The show covered everything from Mariachi to Merman. Sondheim to Cesar Chavez. Show tunes and canciones en español. Critics called Gaytino, "A remarkable life journey from East LA in the 50's to New York's Great White Way in the 60's and 70's and back to Hollywood, moving from the back of the bus to the front of American pop culture." A father/son relationship and a treasured boyhood friendship drive this 75 minute autobiographical play through decades of Chicano history and the gay experience from a unique and personal perspective. Touching, hilarious and absolutely one-of-a-kind, Dan Guerrero finally brings his two fascinating worlds together in a riveting solo show.
Dan's father, Lalo Guerrero, became internationally recognized as the "Father of Chicano Music" in a career that spanned generations. Lalo was a great entertainer and he took his guitar and music everywhere – the White House, a neighbor's house, a concert hall or a classroom. Lalo's honors are many including an NEA National Heritage Fellowship (1991), and he was named a National Folk Treasure by the Smithsonian Institution (1980). President Bill Clinton presented the troubadour with the National Medal of Arts, the first Chicano ever to receive our nation's highest arts award.
The Dan Guerrero Collection on Latino Entertainment and the Arts has been established in the California Ethnic and Multicultural Archives at the University of California, Santa Barbara.
Herald De ParisWest Coast Editor Al Carlos Hernandez worked with Lalo Guerrero on the Los Lobos Grammy Nominated CD Papa's Dream in 1996, and was pleased to spend some time with Dan to chronicle the continuing legacy of Los Guerreros.
AC: When in life did you realize that your dad was special and that you wanted to be a special somebody as well? Who has been your greatest supporter and biggest nemesis?
I was just a kid when Mom took me to see Dad perform at the Million Dollar Theatre in downtown Los Angeles, one of the great movie palaces built back in 1918. By the early 1950's, changing demographics kicked in and it became the cultural center for LA's Spanish-language community. You got a great black and white film from the Golden Age of Mexican cinema and a live variety show with the biggest names from Mexico and the biggest Mexican names from this side of the border. Dad walked out on that stage and, when applause broke out, I knew he was special and not just a "regular" Dad like my friends' dads. He belonged to a bigger audience than just Mom and me. I knew it at that moment.
My greatest supporters were certainly my parents although they tried everything to talk me out of going into show business. At age 19 I gave them the news that I was moving to New York to go on the stage. I had never even had a part time job. I was a true innocent, naive. But, when they saw I was determined, they were there for me.
I think I always felt special. Maybe Dad being in the public eye rubbed off on me and being his son made me feel special. But feeling special can have many meanings. Being different can make you feel special. And I was different. And you certainly have to feel special if you're in our business or why go into it? You're asking people to pay money to see you on stage or on screen. If you think about it, what nerve, what ego, what madness?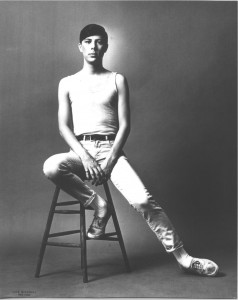 My biggest nemeses? Being gay and being Latino. When I first got to New York, you had to butch it up big time at auditions and not appear to be the flamer you really were or be too, "light in the loafers," a popular expression of the day. So, I always felt restricted, limited and not able to be who I really was. And roles for Latinos in the early 1960s? Mighty scarce. Well, there was West Side Story, but I was hardly the gang type. Never mind I could not dance like those guys. But, that's okay. I'm still here and today you can burst into flames on stage and get away with it.
AC: Where did you acquire the skills in life to become a producer and director? Producers don't usually act, every actor wants to direct, and no one knows how to bring in productions under budget.
I learned everything by just doing it - on the job training. I had a couple of drama classes in my day, but never any serious training in anything. After performing in New York for a few years and having a great time, but not doing anything really big, I became a talent agent in the years from A Chorus Line to Cats. Learned how to be a really good one right on the job, including negotiating skills, and I always had an eye for talent
Moved back to LA in the early 1980's and got calls from New York casting friends who knew me as an agent with good taste in talent. Suddenly I'm doing LA casting for Broadway shows learning on the job and working with everyone from Sondheim to Tommy Tune. Was writing entertainment columns and celebrity interviews on the side for a Hollywood trade paper for lousy money, but got to see all the shows for free.
Never took any writing classes, but I've always been interested in people and have always been a good talker, so I asked the questions that interested me and wrote the way I talked. I learned on the job. I got a call one day and next thing I know, I'm hired as head writer on a bilingual television talk show starring comic Paul Rodriguez . That was because of the skills I had picked up in all my various careers – working with talent, writing, interviewing.
After the first year, I was bumped up to co-producer and I was off and running - producing for television through the 1990's. That moved into live events in recent years. Producing moved me into directing, and I never directed until I did it for the Los Angeles Opera. A lot of it is just common sense to me and the skills I picked up in each career served me well in the next. But make no mistake. This reads like I just skipped merrily from career to career without a bump in the road. I worked like a dog to make it all happen and there were plenty of slow times and plenty of times when I was sure my career was over. But, leaving show business? Never entered my mind. It's all about re-inventing yourself and taking a new road when the old one isn't taking you anywhere anymore.
AC: When did you decide that you wanted to be a performer? What did your dad think about it? What was the first performance when you knew you were a true professional?
I always knew I would be in show business. I loved it the minute I went backstage that day at the Million Dollar and saw all these crazy, fun people having such a good time. They were magic makers. I wanted to be one, too. Never wanted to do anything else. But Mom and Dad weren't having it. Dad and Mom had a tough time in the early days. I was too young, thank goodness, to remember sleeping in a dresser drawer because they couldn't afford a crib for me. So Dad always said it was too hard, that he was just lucky and that lots of talented people never make it. They wanted me to have something to fall back on, but for me that was not an option. I didn't want anything to fall back on. I didn't want a safety net. I only recently remembered my first performance.
It was early in grade school, so I must have been about seven years old and there was a popular game show on the radio where the host gave out silver dollars as prizes. I was chosen to be the host at some kind of school event and had to go up and down the auditorium aisle asking audience members a question. If they answered it correctly, I gave them a little vanilla wafer. It's a cookie that's still around. I have no memory of why I was picked to be the host, but I had a little toy microphone and I only remember thinking that I had to do a good job. I have no idea how I knew I could do it. I only knew I was out there and had to deliver. That hasn't changed in all these years. I still think that way, except I have no vanilla wafers.
AC: You are one of the very few people in the entertainment industry that can change hats, jumping from one side of the camera to the other, and even produce live action events. What skill set does one need in order to do this? And where did it come from?
It's in my blood. I take no credit for it. It just is. And I love the variety. I bore easily and I love producing a huge event with international artists at a prestigious venue and then jumping into producing a television documentary like the one I did on Dad and then performing my solo show. I never know where my life will take me. It makes me crazy and it keeps me sane. I love it all. I use different parts of my brain, but it all stems from the same creative source. It's all making magic. I couldn't choose between performing and producing or directing. I don't want to and I don't have to, thankfully. It's a time when one can wear many hats. There was a time when you directed or performed or produced. No more. And, in the end, I'm really still just trying to break into show business
AC: You are equally adept and successful in Spanish and in English; it works for you. Do you think being Latino has been a help or a hindrance to your career considering the racial climate in Hollywood today?
This is a tough one. There is no simple answer. When I first moved back to LA from New York after twenty years away, I did it because I could see a huge Latino market on the horizon and I knew I was a rare bird at that time. In the early 1980's, I was a Latino that was crossing over in the opposite direction. Most Latinos were trying to cross over to the mainstream. I had already spent years in the "mainstream"- a word I don't like – and I was crossing over to a market that did not even exist. Small as the market was at that time, it worked well for me. I was the only one out there doing what I did, A rare Latino writer in mainstream publications. I was one of only two Latino casting directors in Hollywood. But, as the years went on, I found I had painted myself into a corner. I had produced with major non-Latino television producers and directors that would call me instantly if they had a Latino project. But, they didn't call when working the Oscars or on TV films that did not have a Latino theme. So it began to work against me and that's when I left television and moved into the world of live, non-broadcast international arts and culture events. It opened up a whole new world. And, in that world, it didn't matter if I was Latino. And age didn't matter. That was another issue with television for me. In the TV world, I was old. And old is not good in Hollywood. No matter what your color or gender.
AC: It seems that you can be several different people at the same time, a Renaissance man as it were. You have succeeded in many different careers. Do you reinvent yourself by design?
Absolutely. I'm a huge fan of reinventing oneself. I think it's the only way to survive in my business and, for me, in life. Things change. Life changes. The business changes and you must change, too. And not just to stay in the game, but to keep yourself alive and passionate and growing and learning. I know many people work at the same job and live in the house they grew up in and keep the same hairstyle. That's great if it works for you. I don't judge. But, that could never, ever work for me. And I think I am able to live that way because I keep a very stable foundation. My life partner, Richard, and I have been together for 30 years. I've had a small circle of treasured friends for nearly that long. I lived in the same New York apartment for 16 of the 20 years I was there and we've lived in our current West Hollywood condo forever. So, I can go out and play in many playgrounds and wear different hats and costumes because I have my strong home base. I'm a real nester.
AC: On your website and in your biography you don't mention the play you had written and performed in Gaytino. What is that? It was a Broadway hit.
When I decided to write an autobiographical play called ¡Gaytino! – I had never written a play. I had not performed on stage for over thirty years. I wanted to downplay it because I had no idea what was going to happen. My name and reputation meant something to some people and I was concerned about tarnishing that image. And I could hear people saying, "Oh, another producer who really wants to be a performer!" That was only partially true. I did not spend the past many years yearning for a return to the lights. But I always thought one day, when I was a feisty old codger, I would return to the stage and be the comic actor I always was, but could not be in my youth. I was a pretty boy and always got the silly juvenile roles when I really wanted the funny part. I hit a major lull in my career about five years ago and I thought, "I'm not dead yet. What am I going to do with the rest of my life?" I looked in the mirror and there was a feisty old codger looking back, so I wrote the show. It took off instantly and, at the same time, my producing/directing career came back bigger than ever. Go figure. But, the time has come to blend the two careers.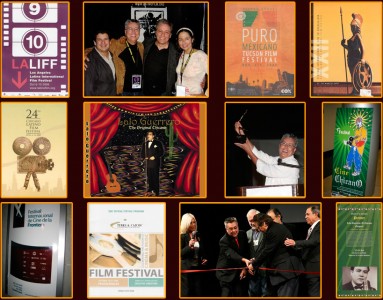 AC: How did the whole Gaytino play come about? What obstacles did you have to overcome to bring the project to the stage?
No real obstacles. I'm at a place in my life and career where I know a lot of people in high places. The support was instant and tremendous and included bookings, press and all kinds of things that touched me greatly. I'm still in awe that people respond to it the way they do. I'm still in shock that people will get dressed, travel across town and buy tickets to see me all alone on stage for 75 minutes and I'm nobody famous. I'm stunned by the wonderful reviews. Of course, that was the dream when I wrote it, but we all know about unfulfilled expectations. And I'm proud because it is very much Mexican-American/Chicano history through my dad and my boyhood friend, Carlos Almaraz. Carlos grew up to be one of the leaders of the Chicano art movement of the 1970's and died of AIDS in 1989. I've performed the show all over the country, including many universities, and it's being written about in text books and studied in Chicano Studies courses. I'm truly humbled. Not my favorite emotion.
AC: The play received rave reviews. How many of those reviews where from the Latino community? Have they been supportive of your theatrical endeavors? What is the future for the Gaytino brand?
The Latino community has been hugely supportive and that was a concern. I expected the gay community to rally around, but was not so sure of Latinos. It's been favorably written about in the Spanish language press and even on national Spanish language television where I was interviewed on a major political program that, I understand, was very well received.
AC: Given your wealth of talents, how do you decide what project you are going to do next, when you can pretty much do it all?
I take them as they come. I've found, strangely enough, that I have never gotten a job I went after. Things come to me. That's not to say that I don't work at things, staying visible, tracking things down, and making myself known. But, chasing a specific job I hear about has never worked for me. And the good thing about being versatile is that if one area is slow, the other kicks in, so I can pretty much stay busy all the time. I have a very full life and I live it to the fullest.
AC: If you were to prioritize work in the order of what you like to do the most, what would it be? Acting? Producing? Directing? Writing? Producing live action music events? W
I would not like to choose, but I dearly love producing and staging major music events. I direct a lot at the Kennedy Center, and recently worked in the Opera House there on an evening of Arab Arts and Culture. Rehearsing in that incredible space with artists that included a symphony orchestra from Egypt, a children's choir from Syria, musicians from Jajouka, and dancers from Oman. It was beyond thrilling. What can compare? But, I do feel, in the end, it will be my writing. Of course, that will come when I'm too old to kick up my heels in ¡Gaytino! or no longer have the patience to create an evening like "Arabesque."
AC: What do you consider your greatest achievement so far?
That I'm a pretty good person and have made few enemies in a business that often overflows with them.
AC: What are some of the projects that you have been waiting a lifetime to do?
I want to create a theatre or dance piece using my dad's music. Not so much a biographical evening, but like the documentary: our Chicano history through Dad's music. And I will do it.
AC: What are you working on now and why did you choose this project?
I'm working with Linda Ronstadt on her Mariachi and Mexican Heritage Festival. It's her third year as artistic director of the festival in San Jose (outside of San Francisco) that has been around almost 20 years. She's an artist I have long admired for her talents and for her heart. I'm privileged to be working with her. And it's my favorite kind of project. A job that celebrates my culture. And I get to play with an American music icon. How cool is that?
AC: Your dad worked well into his 80's. What are some of the things you hope to accomplish before you retire?
Retire? Show folk don't retire. One day we just drop like a rock. I just want to stay healthy and productive to the end, as Dad was, and not stay around too long. Have to know when to make your exit.
AC: How would you like American history to remember you? What do want your legacy to be?
I'll tell you what Dad said when he was asked that question while we were filming his documentary. "I want to be remembered as a kind man who brought a lot of joy to people and made them be proud of who they are and where they came from. That's it." Those are good words to live by.